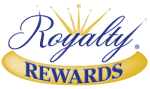 Are you getting your share of freebies from Sluggo's?
Sluggo's loves giving away free food, different gift items and LOTS of discounts all year long.
Get your share of these great offers by becoming a Royalty Rewards member!
Ask your server for an application. Leave your wallet in your pocket, too – membership is free!